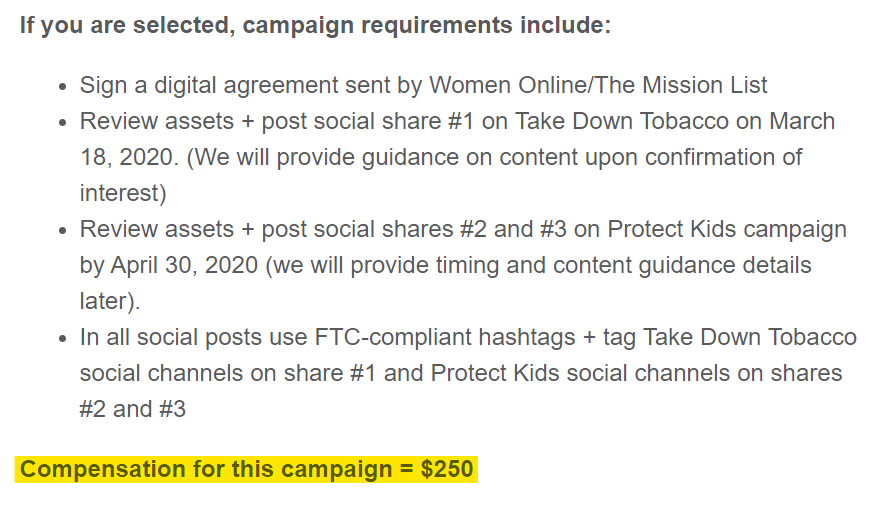 In the midst of last year's "vaping-related" lung illness panic, billionaire Michael Bloomberg saw an opportunity to use his money and influence to take aim at adult vapers and smokers. To that end, he committed $160 million to the Campaign for Tobacco-Free Kids (TFK) for the purpose of banning the sale of flavored nicotine vaping products.
While TFK is now flush with cash, they are apparently finding some challenges in building a political movement around the concept of prohibition. Banning flavors may poll well among non-vapers, but there is a world of difference between answering a survey and actually calling a legislator or sending a tweet. Even with their pallets of Bloomberg cash, TFK likely knows that they can never match the passion that vapers and small business owners bring to the debate.
Their solution? Pay people to tweet about how bad vaping is.
Over at Inside Sources, Michael Graham writes about TFK's decision to suspend a #TakeDownTobacco "influencer" campaign that offered mothers up to $250 to tweet negatively about vaping. However, only some moms would be eligible for the program.
Another requirement to collect the marketing money? "Confirm that you have never recommended e-cigarettes as a means to quit smoking." This is an odd request for a group that purportedly wants to reduce the number of smokers, given the studies showing vaping is one of the most successful smoking-cessation options.

…

Unlike messages by celebrities and online "influencers," which readers assume are backed by paid sponsors, these social media messages would have appeared to be merely heartfelt messages from concerned moms, not part of a paid media campaign.

InsideSources repeatedly reached out to We Are Women Online for comment, but they declined to comment for the story. After its publication, however, Vince Willmore, vice president of communications for the Campaign for Tobacco-Free Kids, reached out to InsideSources with word that his organization is suspending the marketing push for the moment.
Continue reading. AVA President Gregory Conley is also quoted in the article.