WASHINGTON, D.C. — Today, the Centers for Disease Control and Prevention and the Food and Drug Administration released partial results from the 2021 National Youth Tobacco Survey (NYTS). The new data shows that youth vaping fell by over 40% compared to 2020. Among high schoolers and middle school students, vaping fell to 11.3% and 2.8%, down from 19.6% and 4.7%, respectively.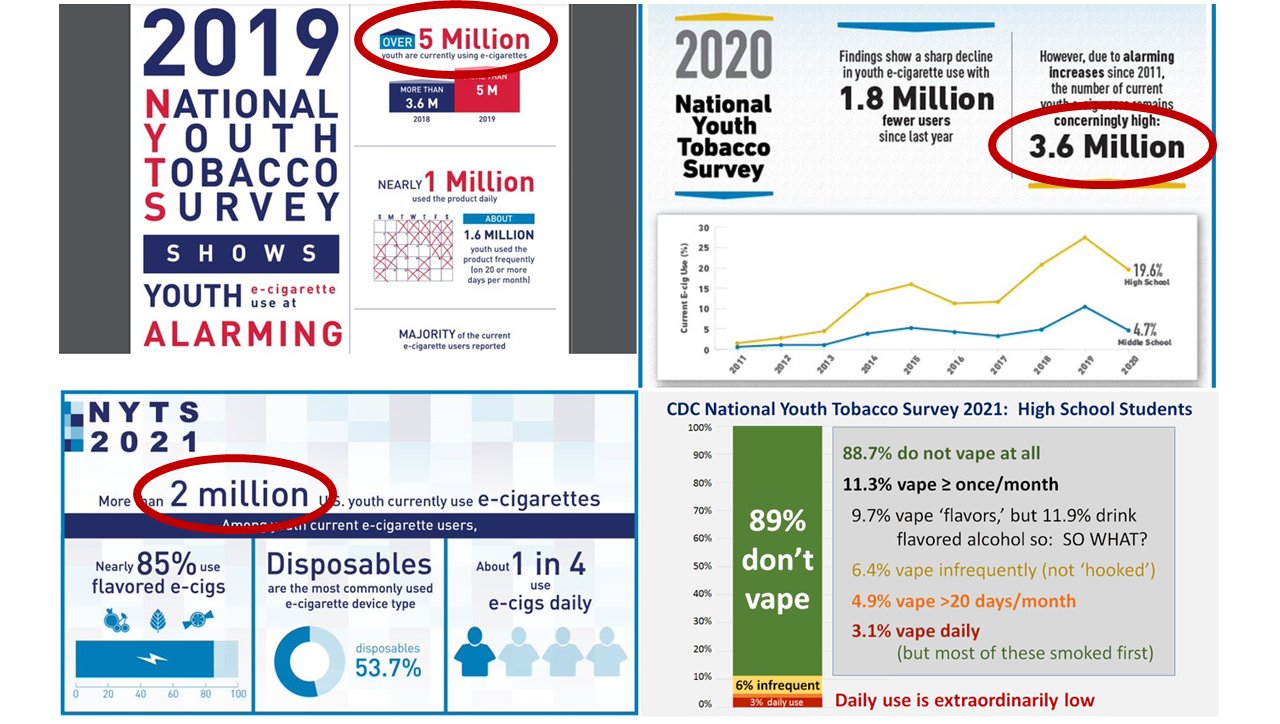 This news comes after a tumultuous month for the vaping industry and its adult consumers. The FDA has banned over one million vaping products sold by small- and- medium-sized manufacturers from across America. Despite FDA-funded research showing that non-tobacco flavored vaping products help smokers quit, the FDA has thus far taken an arbitrary and strict stance against flavors, which has already resulted in several federal lawsuits being filed from companies seeking judicial reviews of FDA decisions.
Other results from the 2021 NYTS, including youth smoking data, were not released to the press this morning.
Gregory Conley, president of the American Vaping Association, issued the following statement:
"All stakeholders in this debate should be pleased to see youth vaping fall for the second year in a row. We believe the primary driver of this decline is the decision by Congress in January 2020 to ban the sale the sale of all nicotine and tobacco products to those under the age of 21.
"With nearly twelve millions adults reporting past month vaping, this means there are now almost six times as many adults using vaping products compared to youth.  Unfortunately, since the FDA has already dedicated itself to a path of moral panic and prohibition, these results are not being trumpeted as a victory. Rather, the FDA is twisting the data to justify its actions over the last month, which have caused millions of adult vapers and thousands of small business owners to fear for their futures.
"We need to do more to combat youth usage of not just vaping, but tobacco products, cannabis, and alcohol as well. Unfortunately, the FDA seems to believe that they can ban their way out of this issue, but the reality is that gray and black market operators are already stepping in to meet demand from consumers. This country does not need another drug war, particularly one against safer nicotine products that compete with deadly Marlboros.
"With just 9% of youth users reporting usage of open tank systems commonly sold by vape shops, this data shows the absurdity of the FDA's regulatory approach of trying to ban nearly every product currently on the market. The FDA should focus its efforts on the problems identified in this survey and revisit its disastrous recent decisions that threaten small vape shops with closure."
About the American Vaping Association
The American Vaping Association is a nonprofit organization that advocates for fair and sensible regulation of vapor products, otherwise known as electronic cigarettes, with the goal of maximizing the number of adult smokers who use these products to quit smoking. The AVA was founded by Gregory Conley, a consumer and industry advocate with a long track record of advocating for vapor products dating back to 2010.
We are dedicated to educating the public and government officials about public health benefits offered by vapor products, which are battery-powered devices that heat a liquid nicotine or nicotine-free solution and create an inhalable vapor.  The AVA is not a trade group and does not speak for any particular businesses, including our industry sponsors.
You can learn more about AVA and vaping by visiting the AVA website. You can also find us on Facebook and Twitter.